In today's competitive metals industry, it's vital that when quoting and selling linear products that require cutting, your sales team is quoting based on maximizing the yield on the products quoted. This will result in more competitive quotes due to significant material savings, a higher quote to order ratio, and increased margins.
We are very pleased to now offer our customers another powerful tool in Steel Manager III, the 4GL Solutions Linear Nesting Module.
4GL Solutions Linear Nesting Module
Our Linear Nesting Module is a completely integrated program within Steel Manager III designed to maximize the yield, and minimize the waste when cutting long products such as pipe, bar, angles, beams, tubes, channels, extrusions etc. Steel Manager III will look at all available stock, and present the logs that will not only satisfy the order but maximize the yield by presenting the logs that when cut will generate the least amount of waste.
Features Include:
Individual piece identification can be maintained.
The user has the ability to edit, save, recall, or print the cut list.
Various combinations of cut from lengths can be analyzed to obtain the most economical material usage.
The linear nesting module has been integrated into quotes, sales orders, production scheduling and can also be run on a standalone screen.
Cutting Schedule
The following is the Cutting Schedule as generated by the Linear Nesting Module. It lists the individual cut sizes required and the logs they should be cut from to maximize yield. The Cutting Summary lists the lengths required, used and the % of scrap.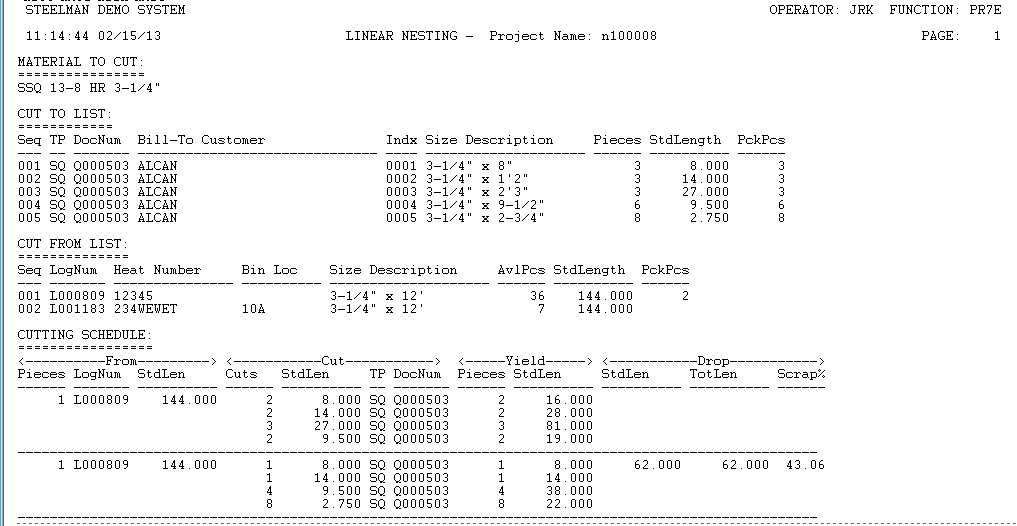 Cutting Summary

Please let us know if you have any questions regarding our Linear Nesting Module. To order, please contact 4GL Solutions at 905-640-6727 or info@4glsol.com