Steel Manager III
STEEL MANAGER III (SM3) is a comprehensive, fully integrated ERP solution created exclusively for the metals industry which includes full functionality in the areas of Inventory Management, Purchasing, Quoting, Sales, Linear Nesting, Plate Nesting Integration, Inside Processing, Outside Processing, Production Scheduling, Picking, Shipping Manifest, complete Accounting, extensive Reporting, Barcoding and much more.
The flexibility of SM3 makes it an ideal solution for all metal centers, whether you are a general line distributor, or focus on pipe & tube, valves & fittings, OCTG products, tool steel, bar, plate, flat rolled products, perforated and expanded metal, mesh, wire rope, specialty steel and structural steel, architectural metals, along with any other type of metal.
Designed Exclusively For The Metals Industry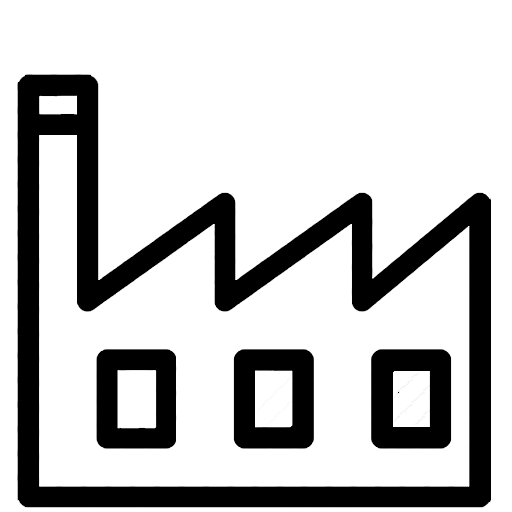 Metal Industry
Focus
4GL Solutions is all about the metals industry. Our family owned company was founded in 1984 and the management team has over 75 years of experience in the Metals industry. STEEL MANAGER III (SM3) is ERP software that has been designed over more than 32 years to handle the specific requirements of the metals industry.
Totally
Integrated
Steel Manager III is an enterprise level, totally integrated software solution. All modules are linked and automatically updated in real time as sales and purchase orders are updated, catching any discrepancies in inventory ordered, received and invoiced.

Business
Intelligence
SM3 instantly provides a wealth of information regarding a customer's purchase history, sales of particular products, quotes to a specific customer or all customers for a particular product, and much more, giving your staff all the information they need to insure your staff leave no money on the table.

Windows
Front End
STEEL MANAGER III utilizes a Windows front end interface providing point and click functionality or keyboard/function key navigation on attractive Windows screens, while being supported by the extremely reliable and stable Linux Red Hat O/S.

Oracle
Database
Steel Manager III utilizes the power of an Oracle database, the leading database in the world used by 100% of the Fortune 100.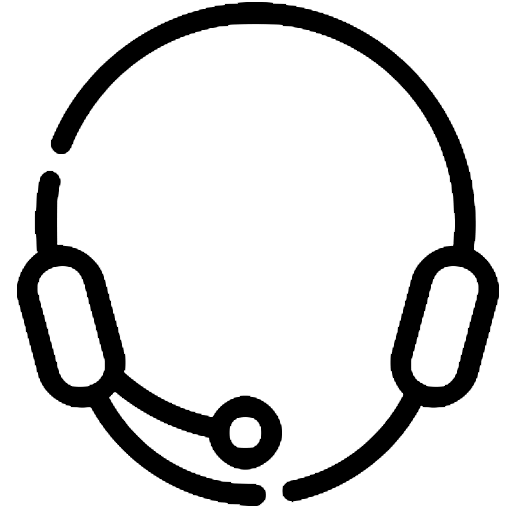 Customer
Service
Customer service has been a cornerstone of the success of 4GL Solutions since our founding in 1984.  Our Implementation Specialists have all come from management positions in metal service centers. Not only are they experts in our software, they are also very experienced in the metals industry.
Steel Manager III Features
STEEL MANAGER III's industry leading functionality comes from two sources; our own understanding of the metals industry and what would make our customers jobs easier but also directly from our customer base. 4GL listens to our customers and incorporates functionality created from enhancements created specifically for customers over the past 32 years.
The result is a feature rich software application that addresses every need of today's metal centers.
Inventory Control
The Inventory module has been designed to record and track all movements affecting the inventory file, for all branch locations, while keeping an accurate and up-to-date available balance of each item. Accurate tracking of inventory, especially remnants, is one of the key components to succeeding in this fast paced, highly competitive industry.
Warehouse Inventory Inquiry
Looking up inventory is an extremely fast and intuitive process. In the instance below the user wanted to see all Stainless Round Bar inventory. By simply typing in the Product line code (or selecting from the drop down listing of product codes) all stainless round bar is displayed. The user could also have filtered the listing of stainless round bar by selecting up to eight drop down parameters, as indicated by the arrow.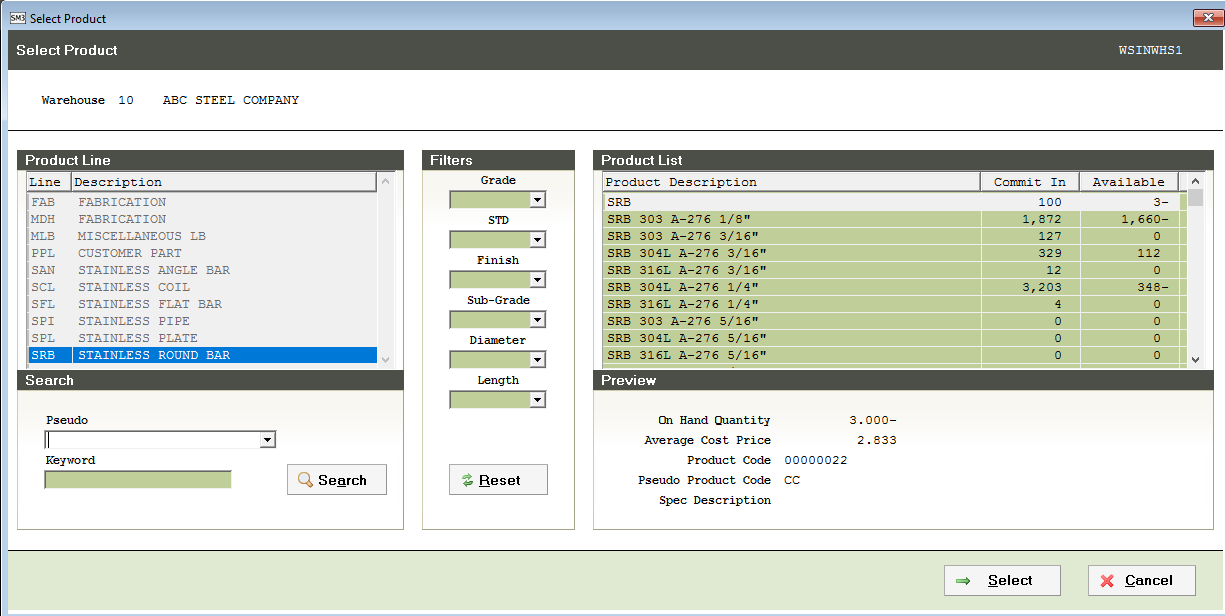 The user also can filter the listing of stainless round bar by selecting multiple parameters such as Grade, Finish, ASTM, Diameter etc. as indicated by the red arrow.
Once a product line is selected the Product Warehouse Detail screen appears as shown below with a wealth of information available to the user. Available inventory is displayed at the tag level including heat numbers, sizes, bin locations, available quantity in both the desired stocking unit of measure, i.e. pounds, Kg, feet etc., and the number of pieces. Inventory can easily be filtered by foreign or domestic, the mill, and quarantined inventory. The chevron tabs at the top of the screen will allow users (with appropriate authority levels) to view inventory in each of your branch locations, how much incoming stock there is, the committed inventory, quarantined material, and program stock.

Our product "Hot Buttons" on the left side of the screen will show Tier Pricing (price book) information, Sales history for that product code, Top Vendors and Customers for that product, the Vendors you can purchase the material from, all quotes of that product, images associated with the inventory, order remarks, and sales budget information, along with costing and sales information. The Shopping cart allows users to select any number of products from the inventory listing then easily convert that information into a quote or sales order.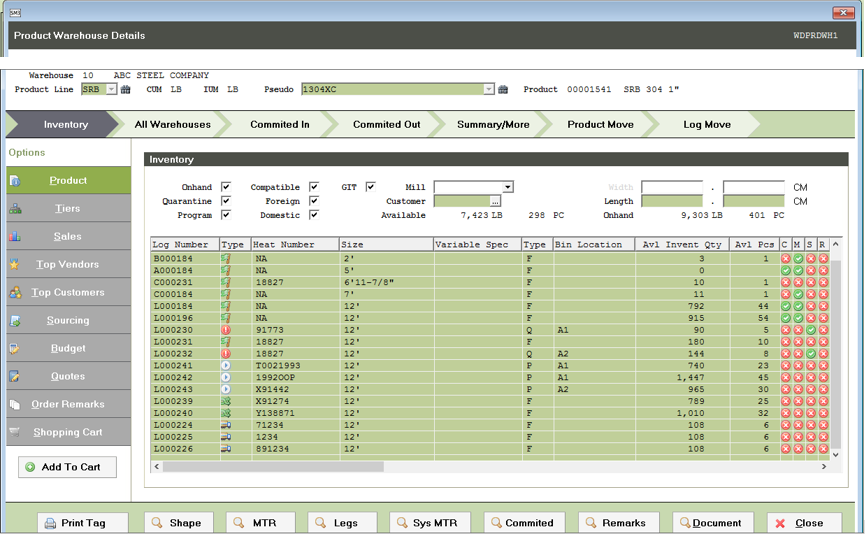 The icons in the Type column represent whether the inventory is On-hand, Compatible inventory, In Quarantine, Program Stock or In-Transit.
The Accelerator Keys at the bottom provides more information for the user including the ability to instantly look at the actual Shape of the product (ie. plate remnants), the MTR or Certification for the material, Committed inventory, and Product remarks.
All inventory in STEEL MANAGER III is tracked by a system generated unique tag number. This number will allow the operator to identify and track any current or historical information associated with the specific piece of tagged inventory including mill, notes, costs, original lengths and warehouse locations. All history is permanently retained in the system.
Material Test Reports (MTRs) – As inventory is controlled by a Log/Tag # the system will automatically link to electronic Material Test Reports (MTRs), providing permanent lookups of MTRs in inventory, and an option to automatically print/fax/ or email your certifications with the packing slip, to selected customer contacts.

You can also create System Generated certifications that will display your company logo along with all the chemistries and physical properties of the log.
You can also set-up the Customer Master file so that MTRs are automatically Emailed, Faxed or Printed for selected customer contacts as soon as an order is processed without any human intervention required.
Material Test Reports (MTRs)– As inventory is controlled by a unique Log/Tag # the system will automatically link the inventory to electronic Material Test Reports (MTRs), providing permanent lookups of MTRs in inventory. The real time saver is the ability to automatically print/fax/ or email your certifications with the packing slip, to selected customer contacts. In the Customer Masterfile simply indicate the person to receive the Packing slip and MTRs and the system will automatically Email or Fax the documents to that person. MTRs can also be automatically printed to be mailed.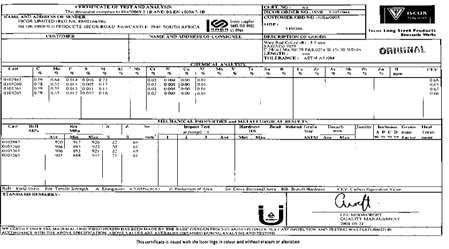 Our Linear Nesting Module is a completely integrated program within Steel Manager III designed to maximize the yield, and minimize the waste when cutting long products such as pipe, tube, bar, angles, beams, channels, extrusions etc. After entering the list of cut lengths required of a particular product, Steel Manager III will look at all available stock, and present the logs that will not only satisfy the order but maximize the yield by presenting the logs that when cut will generate the least amount of waste.

Plate Nesting Integration – Our Plate Nesting Integration Module seamlessly interfaces with ProNest, exchanging work order and plate information in real time. Plates received, and work orders created in Steel Manager III (SM3) will automatically upload to ProNest. Also, once a nest has been performed, pick information and remnant images will automatically tie back to SM3. A huge benefit will be the significant time savings realised as well as the elimination of possible errors due to manual data input entry.

SM3 is very strong when it comes to accounting for remnants. Steel Manager III has the functionality to handle any type of metal product. In addition to accommodating any type or dimension pipe, tube or bar, SM3 is very strong when it comes to accounting for remnants. Steel Manager III has been designed to keep remnants to a minimum by ensuring that these remnants are tracked and are presented during the sale of non-standard sizes.
Once a tag number has been split, each of the new "child" tag numbers will inherit all the pertinent information from the original parent tag number. This information includes such properties as heat number, mill test report, supplier and grade. It will be possible at any point in time to trace a tag backwards or forwards to locate its "parent" or "children", respectively.
Remnant Revalue – When remnants are produced, there will be an option to revalue the unit cost. This will largely be dependent on the ability to sell the remnant. Revaluing can be performed by percent or by unit cost, and these parameters can be defaulted from revalue tables. In addition, SM3's Scrap Policy permits incorporating specific formulas to determine the revalue factors (based upon the size of the drop). The loss of value incurred will be transferred to the piece which will be sold (costing that value to the sale). Therefore, when the remnant is sold (providing it was re-valued to zero), it will be sold at a 100% profit margin (exclusive of operating costs).

Bar Coding functionality within Steel Manager III significantly improves the speed in which inventory can be received and managed while increasing accuracy and decreasing labor costs. Barcoding can be used in all phases (receiving, inquiry, picking, counting, moving, processing, shipping, etc.), significantly increasing efficiency and accuracy.

Multi-Unit Flexibility allows you to buy, sell and price material in any unit of measure. Units are independent of one another and can be changed on the fly. Conversion back to the stocking unit is automatic for easy to manage usage reports or inquiries.

Compatible Product codes enable better consumption and visibility of your inventory. Because customer needs may not be dependent on a specific grade or finish, you can fulfil requirements by displaying and substituting compatible products currently in stock.

Pre-Receiving helps eliminate Receiving department bottlenecks by allowing most of the work to be done ahead of time. The inventory can be seen in your system with a special type indicator and will be available to ship to your customer before the receipt is even posted.

Electronic images of doglegs can easily be retrieved by the User, optimizing the use of inventory while reducing waste. Define your legs to figure out what a plate actually looks like and how much it weighs after it has been on the table. Upload a file directly from your nesting software to show an actual image of the remnant. The following was generated by ProNest: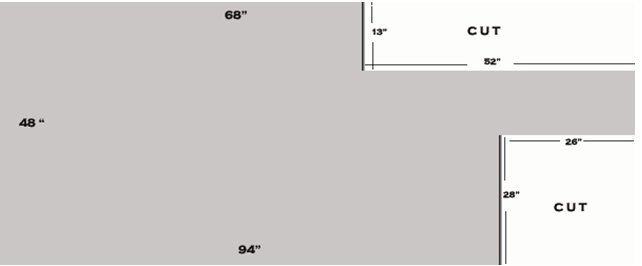 STEEL MANAGER III has a Quarantine location where sub-standard inventory is stored for further action. You can also store a picture of the damaged inventory, and Email the picture to customers that may want to see what the material looks like prior to placing an order.

Inventory can be reserved for consignment inventory or items reserved for Blanket orders, making it impossible for sales staff to sell the material without prior approval.

STEEL MANAGER III can handle an unlimited number of warehouse locations – Material from each yard can be separated by a warehouse designation. Within each warehouse (yard) you can track the location of the material by bin location. All users, providing they have the security, have the ability to see inventory at each location.
Purchasing
STEEL MANAGER III will give your purchasing managers the ability to simply and profitably handle all purchasing decisions, ensuring proper inventory levels based on sales history while maximizing inventory turns.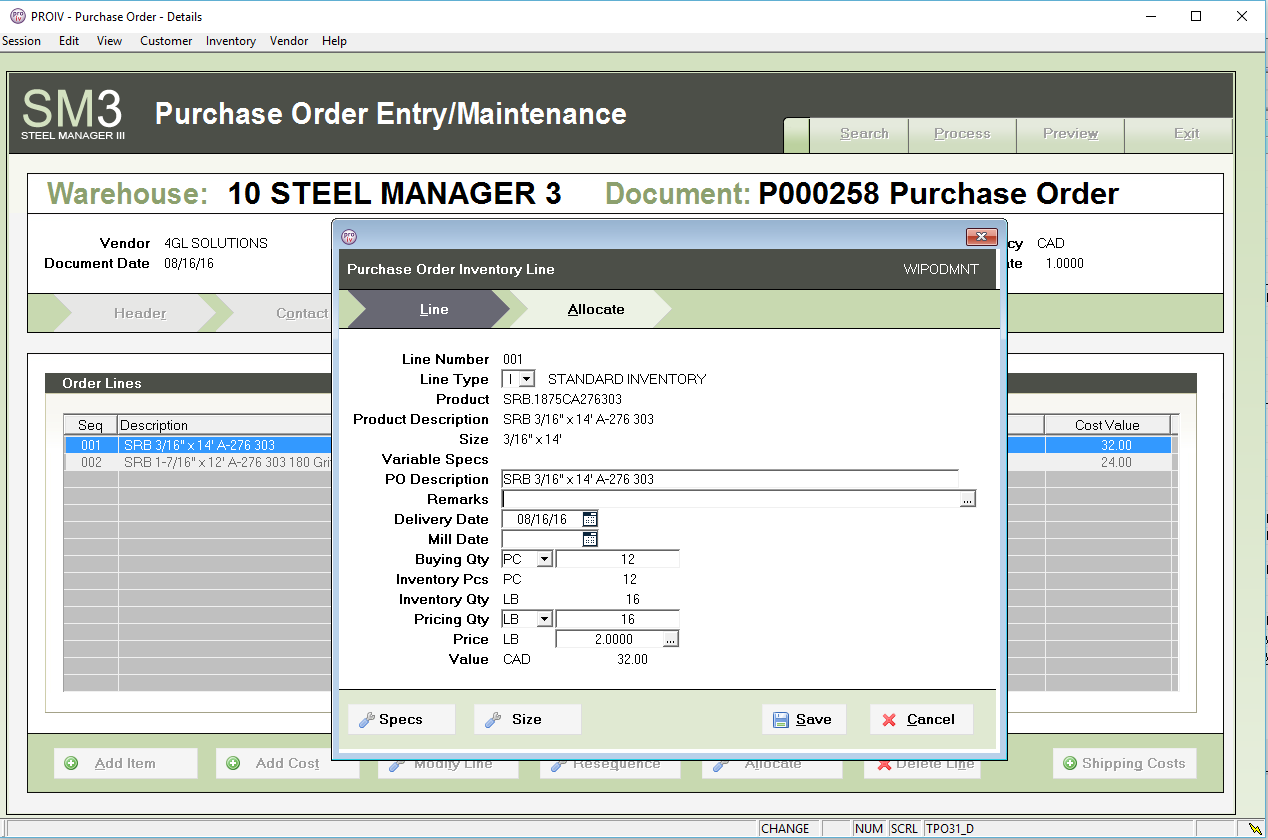 To initiate the purchasing process a Vendor is selected from a drop down list. Once the Vendor and contact has been selected adding the inventory lines to be purchased is very intuitive.
Multiple Remarks can be entered against the PO. and can be printed at the top of the first page only, at the top of every page, at the end of the document, or after every line item on the document.
Automatically monitors usage of raw materials and finished goods.
Inventory reorder reports will be automatically generated advising Purchasing Managers when an inventory item falls below minimum quantities, and suggest a reorder amount based on historical usage.
Our Vendor Sourcing program is a feature within SM3 that our customers tell us is a great time saver. Purchasing managers can select any number of vendor contacts, then by clicking on a button the Email addresses for all the contacts are automatically listed in the BCC line of your default Email program. Simply type your request for pricing on a product and the Email is sent to all vendor contacts selected.
Inquiry and reports detail inbound and historical purchases.
Receiving department can review inbound purchases by estimated Receipt date, allowing Managers to forecast and schedule receiving staff.
Maximum and Minimum Inventory Levels
Steel Manager III will provide the ability to set minimum and maximum inventory levels by usage at the product level. Additionally, the purchasing manager will have the choice of establishing the minimum and maximum level by quantity or weeks. If the minimum and maximum levels are specified by week, the system will take into consideration the cyclical nature of the business when performing the re-order calculations. If this is not the preference, then the minimum and maximum levels can be set to the minimum and maximum quantity.
Usage Maintenance
The operator will have the ability to exclude certain invoices from the usage tables simply by checking them off. This will be used when abnormally large quantities are sold from a product code. Thus, the re-order calculations will not be skewed by spikes in sales.
Inventory Re-Ordering – Re-Order Report
Steel Manager III provides a wide range of flexible re-order reports. These reports will show current on hand levels, on order positions, committed quantities, and usage by month. They will also show you "out of stock" metrics and inventory classification codes. Inventory classification codes allow you to utilize the standard ABC inventory classification method. The code (which is based on specific, dynamic formulas) will be assigned automatically to a product, allowing the purchasing manager to identify which products are profitable and which are not worth stocking.
Inventory Re-Ordering – Re-Order Inquiry
The "Inventory Re-Order Inquiry" screen permits the purchasing manager to conduct an on-line query into the system.
The "Inventory Re-Order Inquiry" screen is the top-level access point to on-line inventory levels from the purchasing point of view. This screen will allow the operator to drill down further into the data from a number of fields. The fields with drill down capabilities are as follows:
Available: the "On Hand" screen displaying tag numbers associated with the selected product.

Commit In: the incoming details screen showing purchase order delivery dates and pre-receipts.

Monthly Usage: the field will display average monthly usage for the selected year. A drill down will display usage by month, with the option of selecting a particular year. It is also possible to drill down under the "W" column to display usage by week.
Sales
STEEL MANAGER III has been designed to give the sales manager total control of the timely sale, processing, and distribution of inventory while maintaining profitability and ensuring tight control on credit.
Your sales staff will have real-time, instant access to all inventory items, in all branches. They will easily be able to filter to only show foreign or domestic material and will also be able to retrieve the mill cert with a click of the mouse.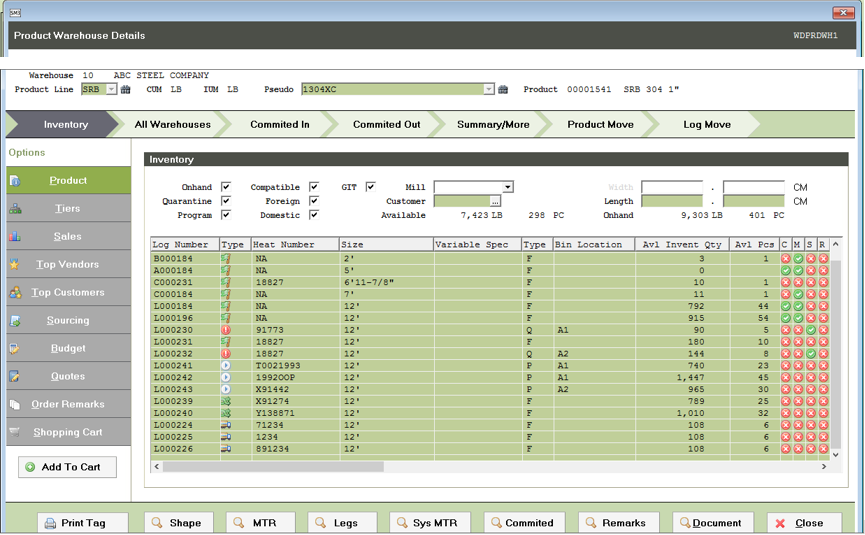 The icons in the Type column represent whether the inventory is On-hand, Compatible inventory, In Quarantine, Program Stock or In-Transit.
Our product "Hot Buttons" on the left side of the screen will show Tier Pricing (price book) information, Sales history for that product code, Top Vendors and Customers for that product, the Vendors you can purchase the material from, all quotes of that product, images associated with the inventory, order remarks, and sales budget information, along with costing and sales information. The Shopping cart allows users to select any number of products from the inventory listing then easily convert that information into a quote or sales order.
Quoting
The sales team can quote and sell in any unit of measure, and instantly change the unit on the fly. Steel Manager III has a built in price book which will automatically determine the suggested selling price for the unit of measure chosen.

Quotes will include your total cost, including freight, duty, inside and outside processing costs, kerf cut loss, pallet charges, etc., and automatically include the cost of the off-cut.

Quotes can either be New or Copied from a previous quote bringing over all the data eliminating the need to re-type multiple lines. Sales can the adjust the quantities or prices.

All quotes to a customer are instantly available, with an indication as to when the customer called, who quoted him, at what price the customer was quoted and whether that quote turned into an order.

Integrated Quoting means faster order desks. Past quotes can be easily retrieved, modified and then converted directly into Sales Orders. With quote history readily available customers will no longer be able to call multiple inside sales contacts to get the "best" price.

Quote Follow-Up Screen – Follow-up reminders can be entered against all quotes and a Quote Follow-up screen will pop open upon the sales person signing on in the morning alerting them of the quotes that need to be followed up on that day. Notes can be entered against the quote as well.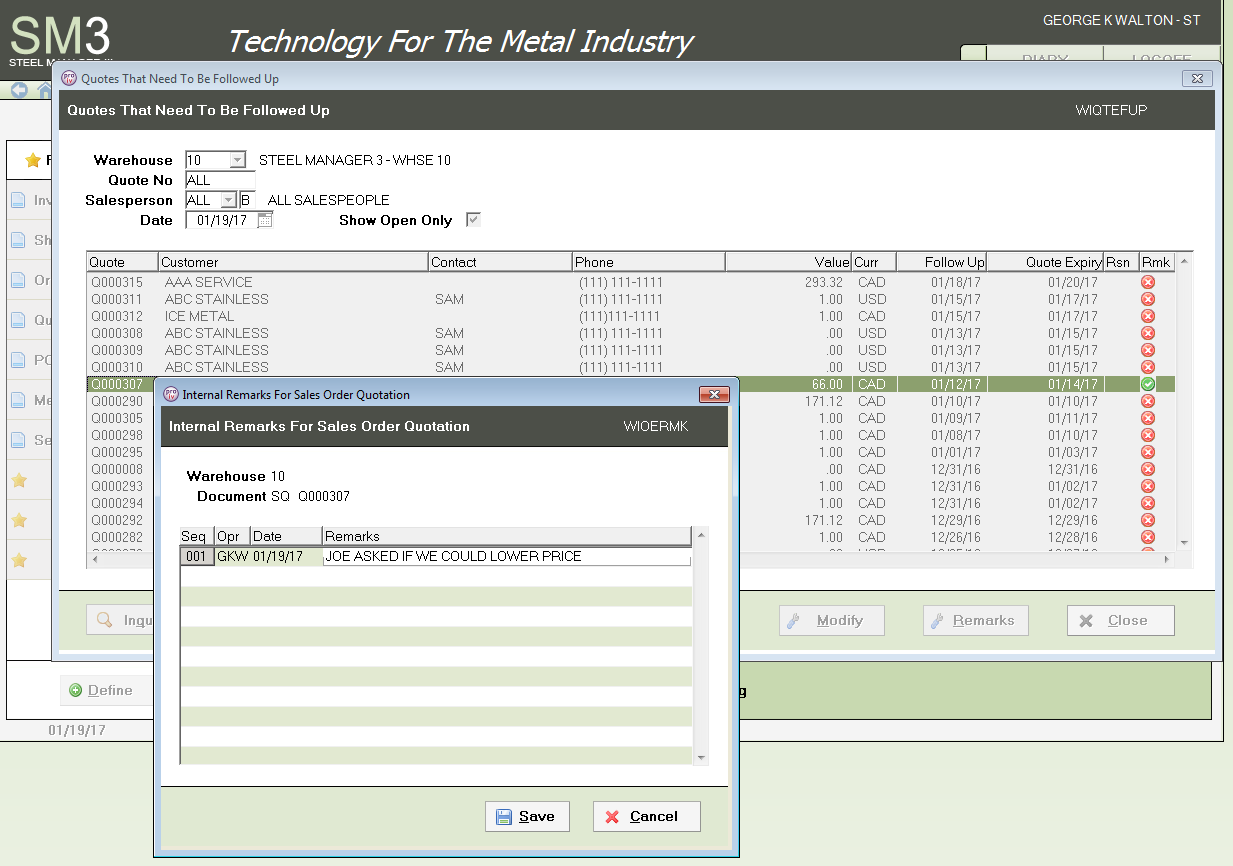 Tracking your quotes is simple, and allows you to see how many turn into orders. By the user entering a "Lost Reason" code, management can receive valuable reports on the reasons quotes were lost.

All outside sales staff can automatically receive an email with a Quote Compilation Report showing all the quotes that were entered that day for his customers.

Our Customer Parts functionality allows a "recipe" of a particular item to be stored in SM3, including the raw material, and all processing that is required. This eliminates the need to enter multiple line orders for parts that are ordered by customers on a regular basis. Even if the part was created long ago, the latest costs associated with the part will be retrieved by SM3. Sales staff then can easily update quantities and prices.
Sales Orders
Sales Order Header Screen
When sales order personnel select a customer, the Sales Order Entry/Maintenance screen will automatically populate but allow any changes specific to the sales order.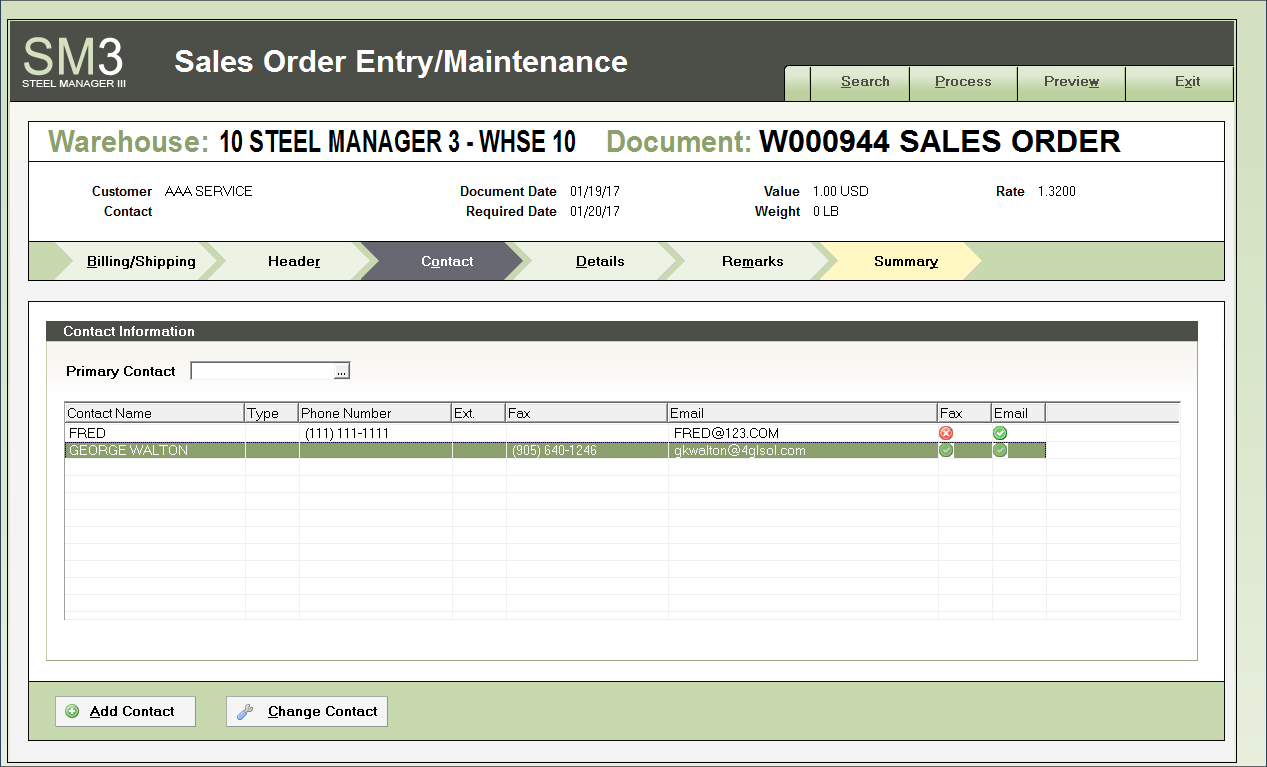 The sales staff can select a specific contact within the customer to receive the Sales Order and have it delivered via Fax, Email or print depending upon the Customer's preferences. Once completed the salesperson will be brought to the following Sales Order Details screen, where the sales order is created.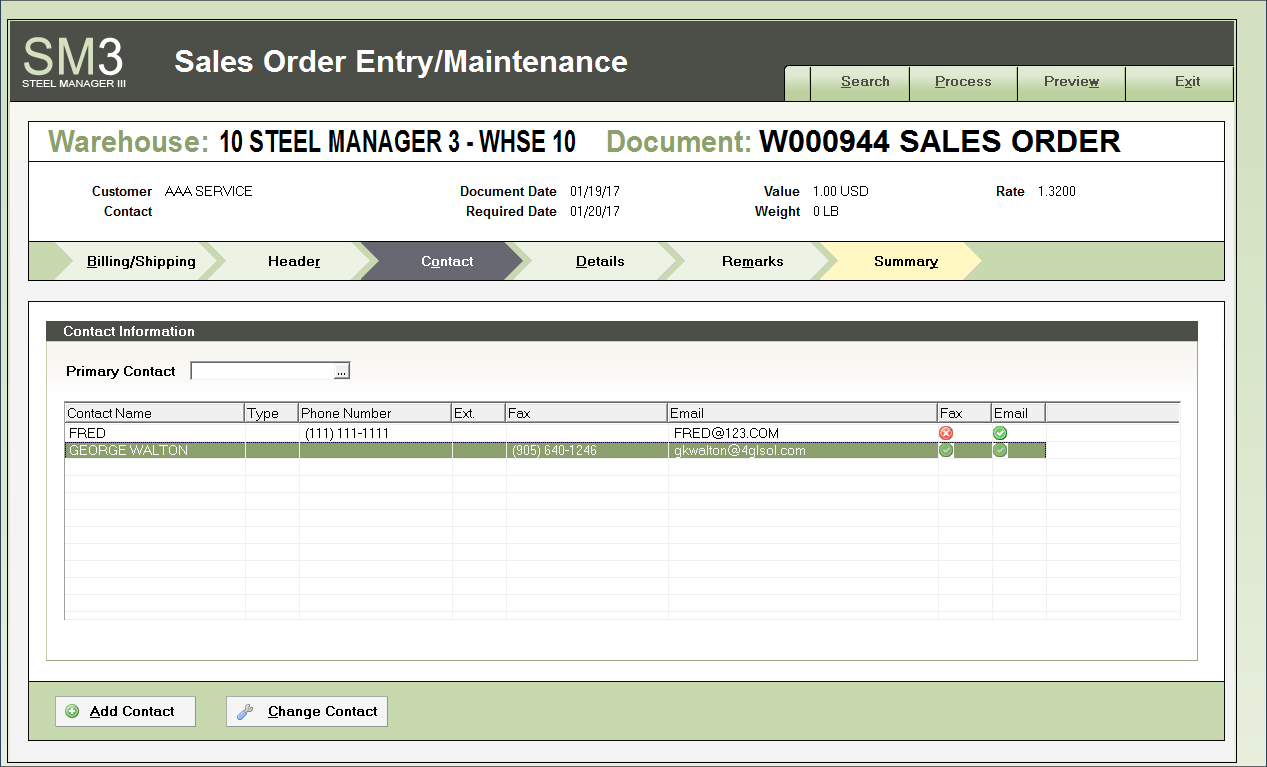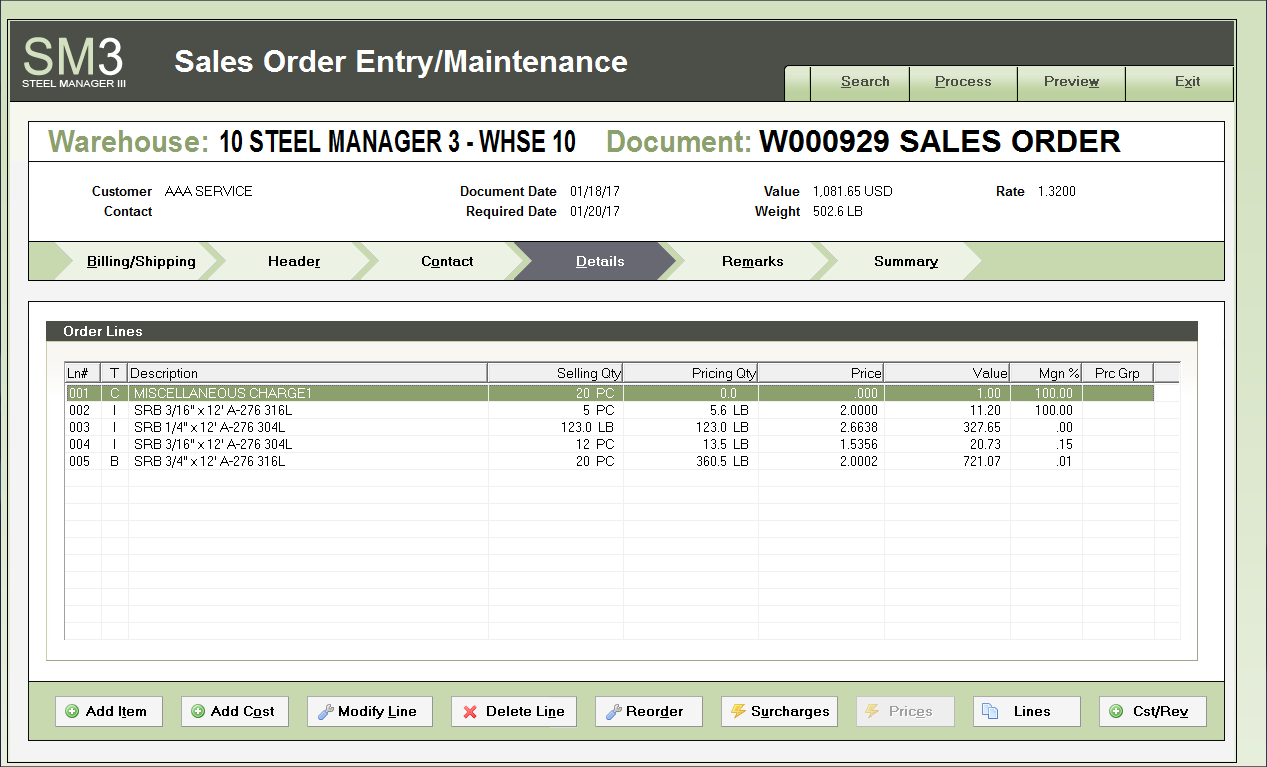 Multiple notes can be entered on invoices/quotes/packing slips/pick slips, either global remarks, customer specific or internal notes. A group of remarks can also automatically populate the sales order without the need to enter each remark separately.

Detailed inquiries available from drop down menus (allowing for multi-tasking without the need to exit current screen) and many screens allow drill down for the user to be able to view detailed information.

Sales staff have real-time, instant access to all inventory items, in all branches, with a simple click of a mouse on the handy drop down menus, and easily sort by grade, type and finish.

Business intelligence – Sales staff will instantly know what a product has sold for in the past, to not only a specific customer but to all customers for similar size orders, so they don't leave any money on the table.

MTRs (Certs) can be automatically delivered by either Email/Fax or Snail Mail.

Steel Manager III has full multi-currency capabilities. Orders can be entered in the currency of choice and is then automatically converted to the home currency by SM3 for all accounting purposes.

Quotes or sales orders can be automatically emailed and/or faxed to specific customer contacts immediately upon completion of the quote.

Sales staff have the opportunity to preview the sales order by clicking on the Preview button at the top of the screen before processing the order.
Pricing Details
Metal centers have a multitude of pricing options available with Steel Manager III. Management will have the option of setting and controlling pricing levels via SM3's sophisticated Price Book. These levels are based on customer, product pricing categories, and quantity levels. Price books can also cater for production allowing the system to suggest selling prices for your in-house processes.
Sales staff can also use the Alternate Pricing button to enter the desired price, gross margin %, gross margin dollars or markup % desired, and SM3 will automatically update the pricing.
Multi-Inventory Unit flexibility allows Buyers / Sales staff to buy, sell and price material in any approved unit of measure, and you can change the UOM on the fly and Steel Manager III will instantly revise the pricing based on the unit of measure chosen. Conversion back to the stocking unit is seamless allowing for easy to manage usage reports and inquiries

SM3's Quote history screen allows Sales staff to view prior purchase(s) by customers so you can maximize profits while maintaining consistency.

The Price Book functionality provides Management the flexibility of setting and controlling pricing levels. Levels can be established from a variety of criteria and can be product specific to a customer. The tier level the customer belongs to will be highlighted in red. Sales staff can be allowed to go up or down only certain levels.

Profitability Checks help prevent pricing errors by issuing warnings when the price falls outside of Min/Max values set in the system. A pop-up message will automatically appear on a manager's dashboard for approval. An Email is then automatically sent to the sales person advising them of the manager's decision.

Historical and present Sales can be viewed by Customer, Inside or Outside salesperson, territory, and warehouse. Purchasing and inventory data are readily available to all personnel allowing Sales to efficiently provide quick and accurate pricing, reliable delivery dates and be able to ascertain available inventory.

Average costs, replacement costs or actual costs can be used to determine pricing.
In-House Production
STEEL MANAGER III has been designed to link any production processing directly to the sales entry process, ensuring that any required processing is scheduled and costed accordingly. This will provide metal centers the ability to provide their customers with accurate pricing and delivery dates and capture ALL your costs of in-house or outside processing. Steel Manager III takes into account the number of heads, number of pierces, loading costs, machine time, labor, multiple processes, markups, etc. giving you more accurate margins during the quotation stage.
Tracking Machine Time with Barcode Scanners
Many metal centers have work that must go through several steps to completion. Using handheld computer scanners, plant personnel can track material through each step of the work order process. Scanning a work order and the machine on which the material is being processed will track both the start and end times for each processing step, accurately capturing the time and cost of each process.
Production Schedule
SM3's Advanced Production Scheduler gives you total control of your shop. Assign jobs to multiple machines, sort or group them by order of importance, required date, material or customer. Evenly distribute the workload of your machines and keep overtime down. Reassigning jobs to other machines is as easy as a click of your mouse.
SM3 will also calculate the kerf material consumed during processing and reserve the required inventory. The quote to the customer will include the cost of the kerf cut, giving you more accurate margins before you process your quotation.
All approved orders will be filed in the production schedule under the machine codes of each respective process. Only the first machine will be accessible until the process is completed. Access is then available to the next machine, and so on until all processes are complete.
Although most of the schedule is set up automatically, it will be possible to maintain certain aspects manually. Total machine time will be calculated based on cutting length, number of heads, total pierces and the unit time for each process. However, it will be possible to alter this time by modifying any one of the parameters. If a machine goes down or gets overloaded, it will be possible to transfer a job from one machine to another.
Machine Production Schedule

A powerful feature is the ability to sort each column on the schedule. This will allow the operator to group together jobs on different sort criteria and make effective decisions based on this grouping. For example, if the schedule is sorted on the raw material column, like products (group, size, and grade) will be grouped together. This will give the operator the flexibility to combine jobs, reduce loading time, which will in turn increase the efficiency in the workshop. If desired the operator can export the Production Schedule to Excel.
Multiple processes for one order are handled very effectively by the scheduler. Once a process has been completed, the next process in sequence will be scheduled automatically. If during machine assignment, a vendor code is attached to the process, the system will treat it as an outside process. In this case, a processing purchase order will be produced to handle the outwork. At any point during the cycle it will be possible to do an inquiry to see which processes are complete and which are outstanding.
The schedule also gives the salesperson a handle on the progress of an order, as well as the ability to inform the customer of the exact status and expected completion date of any specified job.
Nesting – All jobs that require linear nesting, or plate nesting can directly link those jobs to the nesting software by simply grouping the orders to be processed and clicking on the Nesting buttons on the right side of the screen.
Customer Part Quoting
Steel Manager III product code definition gives the ability to define customer parts and recipes. The software will allow operators to define and store the raw material, machining, labor, drawing, and production remarks required to create a specific part. This part can either be indexed against a customer or left without an index (in which case it could be accessed for all customers). When an order is entered for this part, the recipe will automatically be attached to the order so that it is costed correctly, and scheduled against the appropriate machine. This technique will save time and reduce key entry errors. By including Job Costing into your quote you'll see a true margin on the sale of your finished good and not just on the raw material.
Shape File
Another great feature of Steel Manager III is the ability to store a shape file against a particular log. This image can be a .dxf file of the drop uploaded from your nesting software, a picture or a simple drawing. With a simple click of a mouse the image can be retrieved and then Emailed to the customer.

SM3's Split Log Function automatically determines the material required for cut jobs on long products and also provides an estimate as to what the remnant will be. Remnants will be automatically placed back into inventory available for sale the second you process the cutting job. Remnant costs can be re-valued, manually or automatically, based on the size of the drop.

Define Legs to figure out what a plate actually looks like and how much it weighs after it has been on the table. Steel Manager III links your remnant drawing from your nesting program to the physical inventory, there's no more guess work.

Repeat orders for customer parts are easily processed. You can retrieve the past order and issue a new quotation with ease. Searches can be made by customer part or drawing number and sent to production with just a few keystrokes.
Bar Coding & Processing
Many metal centers have work that must go through several steps to completion. SM3's Barcode system can track material through each step of the work order process. Scanning a work order and the machine the material is being processed on will track both the start and end times for each processing step, accurately capturing the time and cost of each process. Handhelds have material processing functions allowing you to produce remnants and labels right on the shop floor. This will greatly improve efficiencies and accuracy of your inventory.
Picking & Confirmation
STEEL MANAGER III steel inventory control software has been designed to ensure the utmost accuracy in picking the correct material to satisfy the customer order requirements.
Two methods of achieving this are provided by the system.
Manual Picking
In this first method, the picker writes the tag number of picked material directly on the work order. When the order has been completely picked, it is sent to the shipping office. Here the hand-written details will be entered through the "picking confirmation" screen.
Hand-held Picking
The second and more efficient method makes use of bar coding and hand held technology. Here the operator initially scans the work order bar code. Thereafter bar codes attached to inventory are scanned systematically until the order is complete. If warehouse staff scan an inventory tag and that product does not match an item on the work order, Steel Manager III will inform them of this error and will not allow them to proceed. This will virtually eliminate the possibility of shipping the wrong material to your customers. Barcoding will streamline your operation, drastically reduce clerical errors, and ultimately leave you with more accurate inventory and happier customers.
Random Length Picking
Random length long products present no challenge to SM3 metal center software. Whenever a random length tag is selected during inventory picking, an "input random length" screen is opened. Here the operator can enter the exact lengths of each item picked so that accurate theoretical weights are returned.
Shipping
The shipping module in STEEL MANAGER III metal distribution software is designed to ensure that all deliveries and pick-up purchase orders are managed, tracked and executed in the most efficient and timely manner possible.
File Maintenance
The main requirement of the steel distribution software system is that all customers and vendors are coded with a route number based on the shipping address. This will allow the manifest to group all deliveries for any one route together to ensure the most direct journey for the selected carrier.
The manifest caters for a number of carriers or shipping methods. Company owned trucks will be added to the ship via table and will have a user defined maximum weight and maximum length which will limit the type and amount of cargo for any one journey.
Loading
With the Steel Manager III (SM3) metal distribution software, all work orders are automatically added to the shipment manifest once a sales order is approved.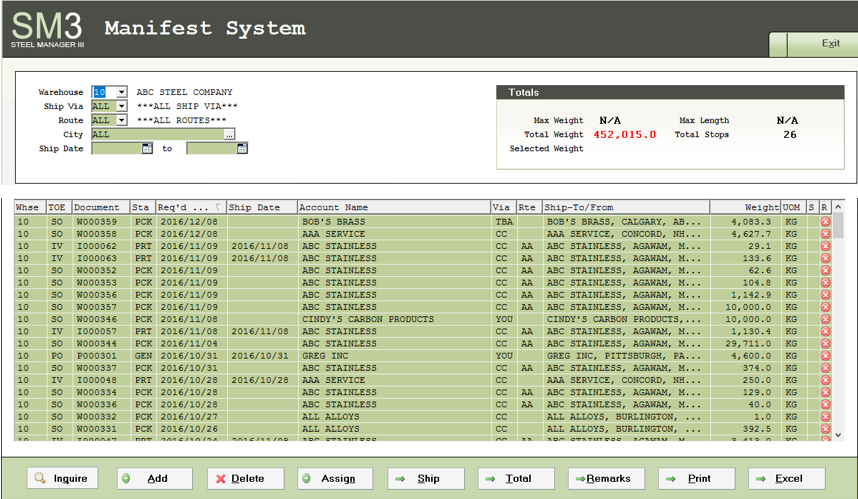 Documents will be added automatically to the manifest under a particular ship via which was specified on the order. They will also be added for a particular route which is stored on the customer ship to or vendor ship from profile.
The manifest will display the document (work order, BOL #, or PO #), date required, actual ship date, account name (customer or vendor), ship via (truck) code, route code, zip code, weight, UOM, and shipping indicator.
Managing loads is as simple as assigning an order to a specific truck.
Total Weight – A powerful feature of the manifest is the ability to highlight multiple items on the manifest and to total them by clicking on the "total" button. This will display the weight and number of stops for those selected items. This is very helpful for the shipper when decisions are to be made to reshuffle a particular load. The total weight assigned to a selected truck will always be displayed and it will be highlighted in red if this weight exceeds the maximum allowable weight.
Once all routes have been finalized it will be possible to print a manifest report. This report will show document number, required date, account (customer or vendor), shipping address, and weight. The report will sort and total by truck showing total weight and total stops. It will also give the total weight and the total number of stops for all trucks.
Load Confirmations
Utilizing handheld barcode scanners warehouse staff can perform load confirmations which will ensure all material is loaded on the truck. If there is a package missing the handheld scanner will identify which package is missing and will instruct the warehouse staff where they can find the missing item.
Outside Processing
STEEL MANAGER III provides functionality to handle all of your outside processing. It does this while keeping track of all raw materials outside the warehouse, all related costs, and all finished goods to be returned.
Outside processing will be necessary if the production process is not performed in-house or the in-house process is at maximum capacity. In either case, the raw material or intermediate product is sent out to a processing vendor to fulfil the customer's order. Once the material has been processed, it will be returned to your warehouse and then delivered to the customer, or possibly shipped directly to the customer.
Order Entry
The outside processing will be initiated by entering or linking an outside processing document. This is a multi-purpose document. It will first be used to pick the raw material in the normal manner, i.e. either by scanning the bar codes or writing the tag numbers on the document. The items will be manifested and shipped in the normal manner.

The processing details are also recorded together with their negotiated prices. The resultant finished goods are also recorded. These can be directly reserved against a particular sales order.
Many to one – one to many
SM3 allows for many to one orders as well as one to many type orders. Many-to-one orders are fabrication type orders where you are taking more than one raw material and are making one finished good. One-to-many orders are where you are taking one raw material and are making many finished goods. For example, taking one coil and producing different sized sheets.

Order Confirmation
Once the material has been processed, it will be returned from the vendor to the primary warehouse. The actual weights of all the finished goods will be entered together with any off-cuts and scrap. The latter can have their cost re-valued based on the "saleability" of the material. Any loss in value will be distributed over the finished goods. Only once the capturing is complete will the raw material be relieved and the finished goods updated.
Accounts Payable
The Accounts Payable module will track vendor invoices and payments. It will also track accruals where material has been received, but no vendor invoice has been linked to it yet. This will allow metal centers to have an accurate analysis of monies owed and will prevent overpayment or duplicate payment of vendor invoices.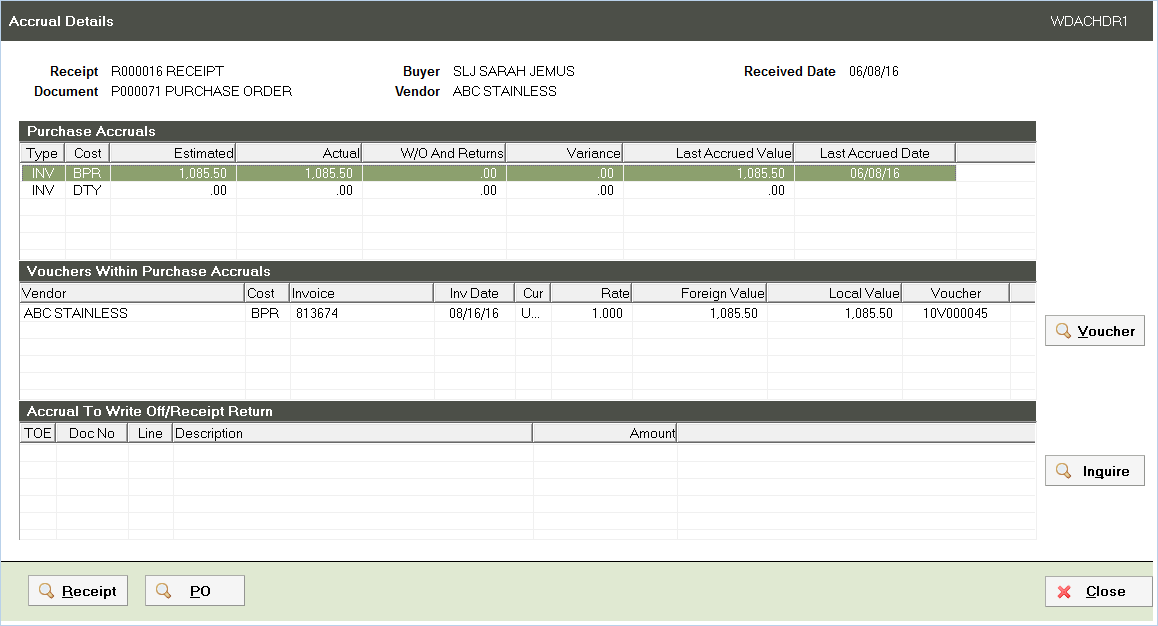 Highlights
The Accounts Payable module is where you perform functions related to Vendors (adding and maintaining), tracking Vendor invoices and issuing Checks for payment and/or Electronic Payments. You can enter and process invoices and disbursements, reconcile checks, perform Accounts Payable period ends, maintain Vendor master files, and administrate the Accounts Payable process. The Accounts Payable module also provides the ability to track accruals – Inventory items have been received, awaiting receipt (link) to Vendor invoice.
The Accounts Payable module helps you organize your cash flow efficiently and accurately. With the ability to break down the landed cost and the automatic accrual mechanism, you're able to accurately validate vendor invoices and track any purchase variances.
Break Down and analyze all components of landed cost

Comprehensive Vendor File contains pertinent information central to payables & purchasing

Using our disbursement module together with our cash forecasting, you will always cut the right checks at the right time.

Inventory Receipts are matched to Vendor invoices comparing actual to estimated costs for all components of landed cost

Accrual accounting: Receipts are accrued at the time of receipt to assist in matching expenses with revenues in the same accounting period

Reports and inquiries keep track of payments due, vendor analysis, and cash requirements and aging

ACH Payments are fully supported

Positive pay functionality
Accounts Receivable
The Accounts Receivable module in STEEL MANAGER III gives the user the ability to offer their customers credit facilities, and at the same place a tight control on delinquent accounts. It also highlights all outstanding documents and ensures a timely collection of these, and at the same time, minimizes the exposure to bad debts. The accounts receivable module in STEEL MANAGER III will bring your average days to pay down to an acceptable level. With the help of built-in credit checks, your bad debt exposure will be minimized.
Customer AR Inquiry Screen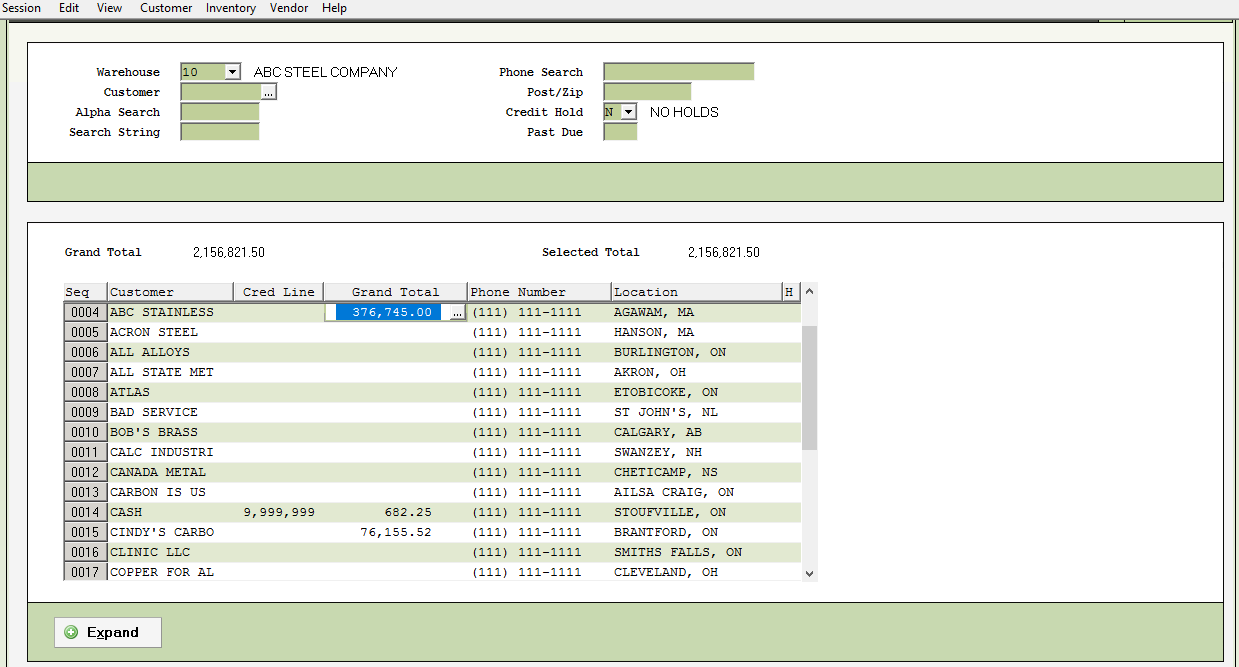 Searching for a customer is made easier by the ability to search using an Alpha search using the first few letters of the Customer's name, a Search String which will bring forward all customers with a specific word, search by phone number or Postal/Zip code.
The list can also be sorted by a specific number of past due days.
Highlights
Your collections process will be made easier with the help of our comprehensive document application and tools, such as;
System Credit controls on new orders. If an order fails credit, the Credit Manager will automatically receive a pop-up message on the dashboard advising them of the order. All the credit information will be instantly viewable by the Credit Manager. Once the manager has made a decision to either approve or disapprove the order, the sales person will automatically receive a message advising them.

Immediate Inquiries into a customer's credit history, the status of any open orders, invoices and cash receipts. Immediate on-line viewing of ageing buckets.

Delivery of Invoices and Statements via Email/Fax (at time of shipment) is available directly from STEEL MANAGER III.

AR inquiry by aging allowing the credit department to concentrate on problem accounts.

Ability to enter notes on documents during Collection process

Interest charged on Past due accounts

Ability to drill down to source document level

Full integration with other modules improving the accuracy and timing of information
Credit Check
Once a sales order is created it is then passed through a credit check. A check is made against the credit limit set up for that customer. A check is also made to determine if there are any overdue invoices, whether there has been no activity for a pre-determined number of days or whether the customer has been placed on hold. If any one of the checks fails, then the sales order will be "held" and will be transferred to the credit department via a pop-up screen.
The credit department can then do an inquiry into the customer's credit. This is a very informative screen and will give the user plenty of information with which to contact the customer and negotiate the release of the current and any future orders. Information that is available for the user is as follows: start date, credit line, last sale date and amount, average days to pay, highest credit date and amount, last payment date and amount, sales history, open AR and orders.
Customer AR Inquiry Screen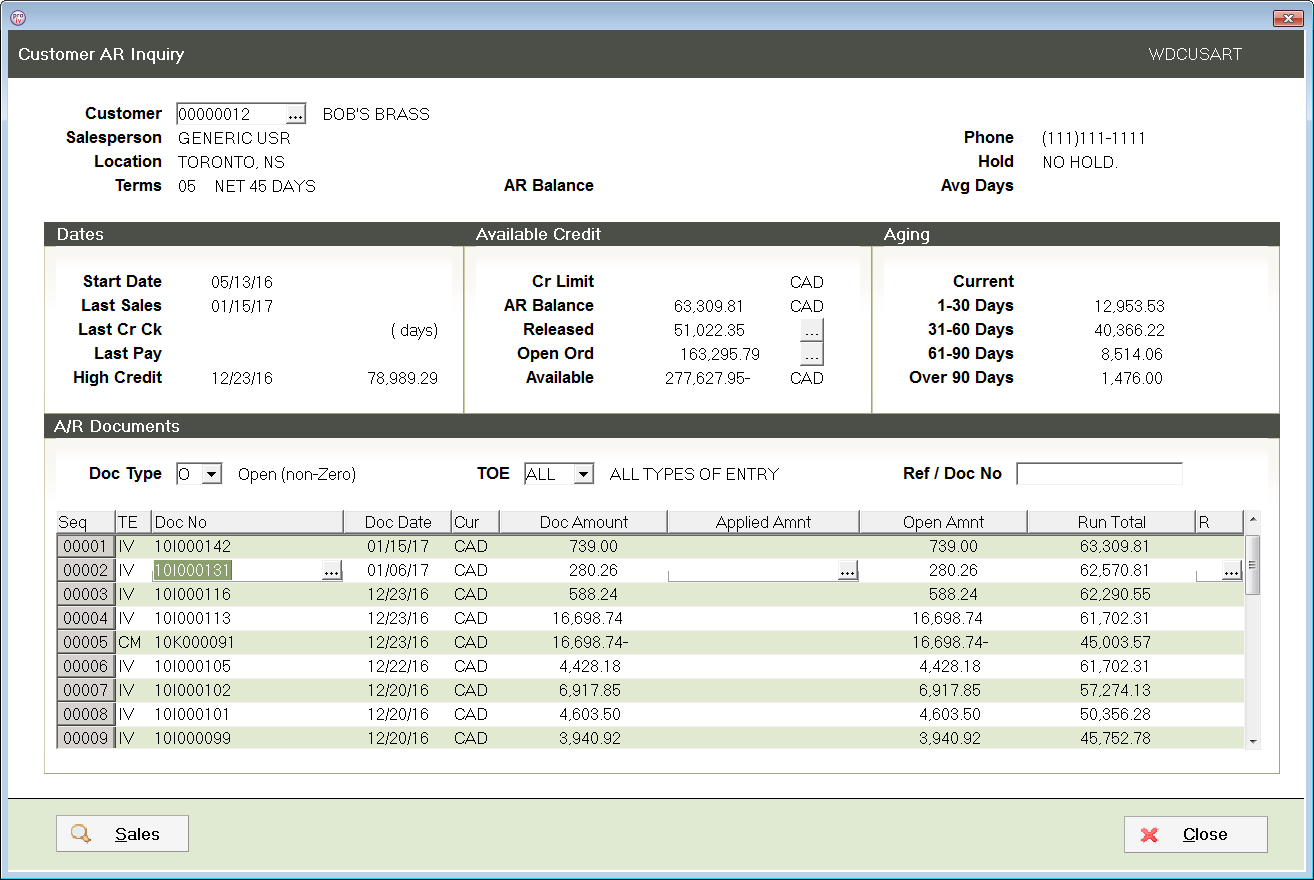 Drilling down on the Document Number will bring you to the actual invoice, credit note, return etc. Notes can be also entered against the individual line items.
General Ledger
The General Ledger is the final repository for all transactions in STEEL MANAGER III. Through the GL the operator will be able to see an overview of the company and current financial status. Access to GL modules can only be obtained by an operator who has been granted the necessary security level.
Highlights
General Ledger integration will simplify your company's entire accounting procedure. Automation removes the margin of error associated with manual entries. Access to GL modules can only be obtained by an operator who has been granted the necessary security level.
Features include;
Integrated cash book and bank reconciliation

Ability to drill down to the document level

Financial Report writer allows the creation of custom financial reports

Sales and Cost of Sales can be reported by product line

Multi-currency capability
Budgeting
Steel Manager III allows input of budget numbers into the GL. These numbers will be entered against the chart of accounts and will later be used by the financial report generator to conduct budget vs. actual comparisons.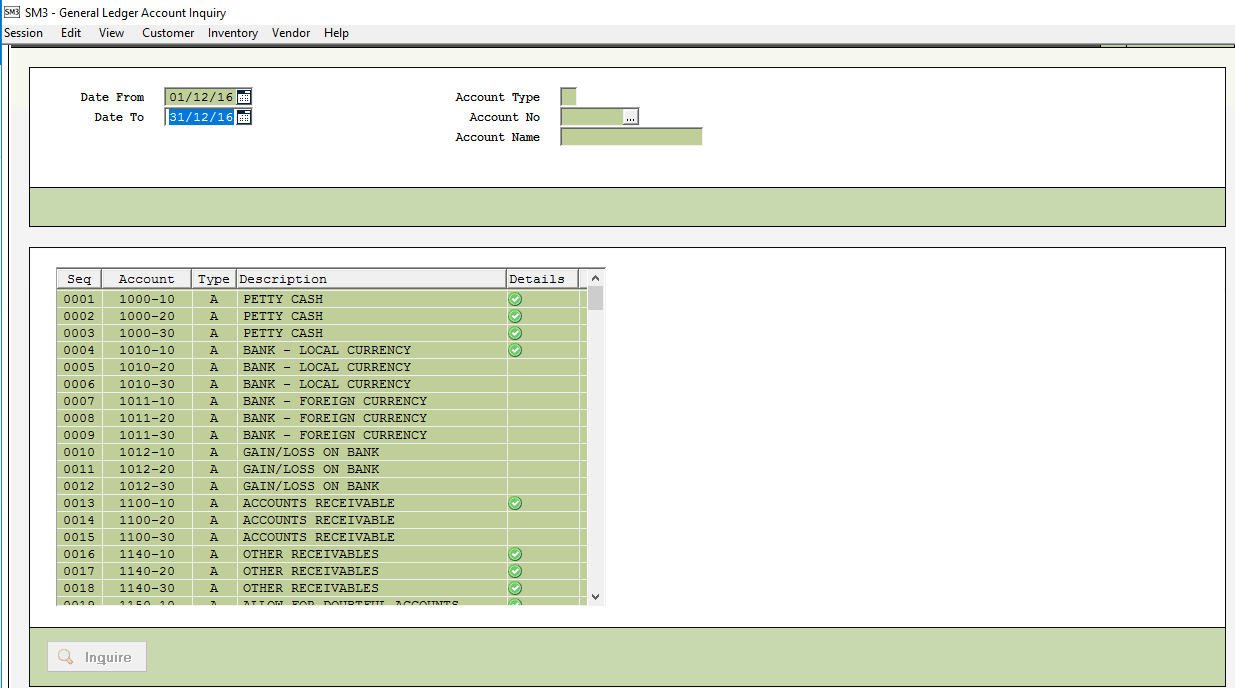 Transaction Processing
Standard Journal Entries can be entered into the system. Journal entries can be entered into accounts such as Accounts Receivable, Accounts Payable, and Accruals. When accounts such as these are used, there is an option to affect the sub-ledgers directly. For example, if Accounts Receivable is affected, the journal can be applied to a customer invoice.
Recurring journals can also be entered. In this case, a frequency and occurrence can be entered. The frequency will define whether the journal will be every month, two months, etc. The occurrence will define how many journal entries will actually be created. For example, if a recurring journal with a frequency of 2 and an occurrence of 3 is entered, the system will create 3 journal entries – one every 2 months. This is useful for fixed expenses where the value of the journal does not fluctuate.
Cash Book
Steel Manager III has an integrated Cash Book and bank reconciliation. Every time the bank(s) are affected in the system, an entry will be created in the cash book. This will occur when writing a check, voiding a check, receiving cash, reversing a cash receipt, or if a journal entry affects the bank. Although these entries are automatic, the operator may optionally make entries directly into the cash book. This direct entry is often used for bank charges and other entries of this nature.
The bank can automatically be reconciled by importing your bank transactions. The system will auto reconcile if the amount and other select criteria match so that only the exceptions need to be addressed. At the end of the process, the closing balance on the bank statement should match the balance in the cash book. The reconciliation will show checks that have not yet cleared the bank as well as other entries that have not yet affected the bank account.
​​​​​​​Inquiries
The General Ledger detailed inquiry screen will allow the operator to view the activity of any specified account. This inquiry screen will allow for to drill down to a summary level (daily entry), a detailed level (document level), and will also allow drill down into the document itself. For example, an operator could drill down into the inventory account and see that there was a credit of $15,000 for a particular date. If he/she drills down further, the invoices that make up the $15,000 can be seen. The operator could then drill down into the invoice to see the line items that are on the invoice.
Reports
Steel Manager III provides a wealth of information available to management to monitor the health of your business.
Comprehensive Reports give insight into many aspects of your business such as sales, margin, margin percent, profitability, sales by salesperson, top selling material, best-selling grades, and more. There are many standard reports to choose from that have been developed over the years specifically for metal service centers.
Generating reports is extremely simple and fast. Simply input a few parameters of what you would like to see in the report and SM3 will generate the report to your screen in a matter of seconds.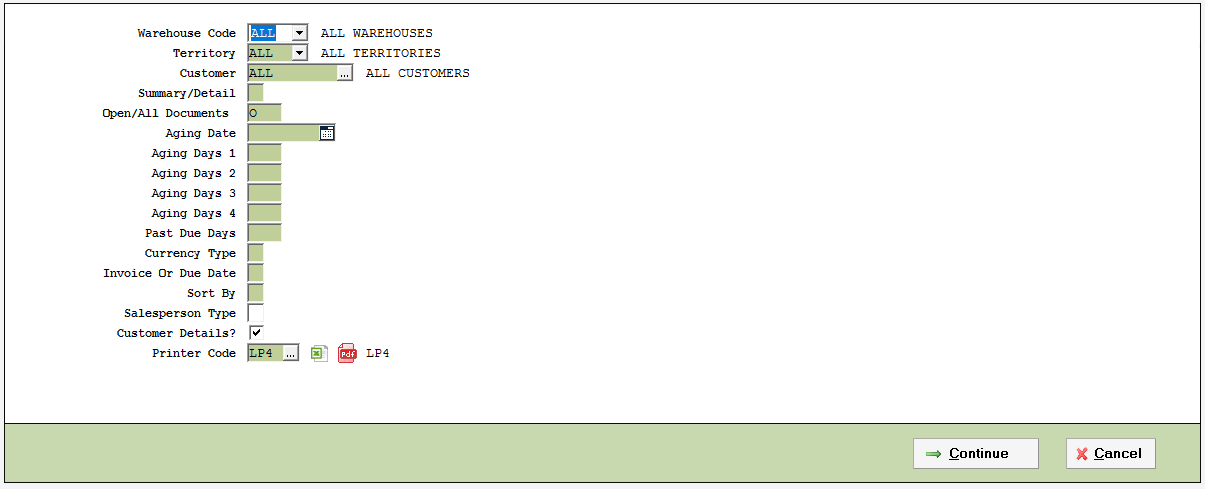 Automated reporting allows users to select the reports they want to see on a daily, weekly or monthly basis. Steel Manager III will then generate those reports in the evening and Email them to the user in PDF format so the reports will be in their inbox in the morning.
Most of our reports are easily exported into an Excel spreadsheet for further data manipulation.
Our integrated Financial Report Writer will allow you to create your own custom financial reports, extracting data from any GL Code, and designing the report the way you want to.
Remote Reporting is a useful tool that allows managers to remain current by automatically receiving the latest sales numbers to their PC or smartphone.
Corporate Inquiries give multi-warehouse companies the flexibility to see all their available material, sales, orders pending, and incoming material in a single window.
Cash Forecasting allows you to see your cash availability for any selected future date. This information is based on payables, cash book, and receivable history.
Paperless Reporting is the new age of management systems and company analysis. Steel Manager III has numerous detailed inquiries and built in reporting screens that allow you to manipulate data on the fly, giving you desired totals and on demand functionality.
ODBC Connectivity gives you complete access to your database. This will allow you to use third-party data mining software applications such as Crystal Reports to export data to Excel spreadsheets.